This Nobel Prize-Winning Physicist Sold His Medal to Help Cover Medical Expenses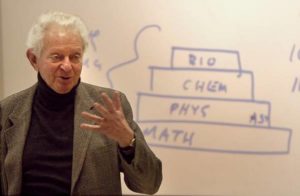 Nobel laureates are certainly top achievers. In 1988, Leon Lederman won a Nobel Prize for his work
in physics. Apart from award-winning research into subatomic particles, he is famous for coining the
infamous name of the Higgs bosin: the "God particle."
Lederman passed away in a nursing home in Idaho on October 4. He was 96, according to
the Associated Press. The AP describes him as a "giant in his field who also had a passion for
sharing science."
While Lederman's contributions to science speak volumes, another striking story of him emerges
from a past story by NBC News.
In 2015, the physicist was forced to auction his Nobel medal so he and his family could
cover healthcare expenses. The medal sold for $765,000.
It's yet another example of how high-cost retiree healthcare needs can change the financial situation
of any of us.
Changing Health, New Challenges
Back when he received a Nobel Prize in Physics, Lederman used his winnings to buy a log cabin
near the small Idaho town of Driggs. The cabin was intended as a vacation home.
But Lederman and his wife moved there as full-time residents in 2011, when Lederman started
having significant memory loss issues. In time, they turned to an online auctioneer to sell his Nobel
medal. From that they would use the proceeds to pay for care services relating to his dementia.
Speaking to NBC News at the time, Ellen Lederman, his wife, observed that the diagnosis of
dementia had raised the prospect of costly medical bills and uncertainty for them.
"It's terrible. It's really hard," she explained. "I wish it could be different. But he's happy. He likes
where he lives with cats, dogs, and horses. He doesn't have any problems with anxiety, and that
makes me glad he's so content."
Lederman's uphill battle against costly medical bills is one of many examples of how healthcare
expenses can add up in retirement.
Healthcare Cash Register Just Keeps Ringing
According to the Bureau of Labor Statistics, the top expenditure for retirees tends to be housing
costs. But health costs can add up, especially with aging, when dependence on health services and
prescription drugs grows.
Take, for instance, the area of long-term care. Just the cost of long-term care services and supports
can be quite staggering.
In 2017, the median cost of a private room in a nursing home was $8,121 per month, according to
data from Genworth. Overall, the price tag for a private room has risen more than 31% since 2009,
Genworth reports.
How Much is the Lifetime Tab for Healthcare Spending?
And what about the cost of medical services, not to mention other healthcare needs?
HealthView Services, a healthcare research firm, sketched out estimates of total lifetime retirement
healthcare costs. It based its forecasts on healthcare claims from 70 million individual cases,
actuarial, and government data sources. The projections include Medicare Parts B and D,
supplemental insurance premiums, and dental premiums paid.
According to HealthView, a healthy 65-year-old couple retiring in 2018 could pay as much as
$363,964 in today's dollars for total lifetime healthcare costs. That doesn't include the cost of any
potential long-term care services, most of which aren't covered by Medicare.
When the forecast is adjusted for future dollar value, a retirement-age couple may face as much as
$537,334 in lifetime healthcare spending.
Understand Your Options
According to experts, the first step is understanding what is available to you. Medicare, which
Americans become eligible for at age 65, will cover a number of medical expenses, but not
everything.
Some of the items it doesn't cover are routine dental care, vision, hearing aids, and most forms of
long-term care.
Apart from Medicare coverage and supplemental insurance, there are a number of other options that
can help with cost relief.
Healthcare Cost Relief Options
One possibility is a health savings account (HSA), which allows you to accumulate money within the
account on a tax-free basis. People can withdraw funds from an HSA on a tax-free basis when they
use the money for qualifying medical expenses. Section 213(b) of the tax code spells out what
qualifies in further detail.
Apart from Medicare coverage, you may have some cost relief potential with certain life
insurance policies. In recent years, life insurance carriers have updated and innovated life insurance
contracts to have "living benefits".
In other words, death benefit proceeds can be accelerated when a policyholder is living to pay for
certain qualifying life events. Those include specific emergencies, terminal illnesses, confinement
care situations, and other life events as outlined by a life insurance contract.
Options for Covering Long-Term Care Costs
For long-term care needs, a variety of insurance solutions may be tapped:
Long-term care insurance
Asset based long-term care policies
Annuities with long-term care benefits
Life insurance policies with living benefits for confined care
These different offerings can help provide cost relief by leveraging the assets of an insurance
company toward different LTC expenses. Each option may come with its own requirements. That
may include an inability to perform certain acts-of-daily-living for a policy to start paying benefits.
Other factors to consider include scope of coverage, how long an insurance carrier might pay
benefits for, whether cost of insurance (and premiums) will go up, and what situations wouldn't
qualify as coverable events.
H.F. Hanes & Associates has the experience to help you explore these options and choose the best
strategy for your situation.
Planning for an Income-Secure Retirement
While healthcare spending can be costly, it's just one part of retirement. One of the primary concerns
of retirement planning is ensuring you have enough income and assets to maintain your lifestyle.
You also want to be sure your savings and assets last as long as you need them.
If you could benefit from guidance in getting your retirement financial strategy in order, help is a
phone call away. Financial processionals at H.F. Hanes & Associates stand ready to assist you.